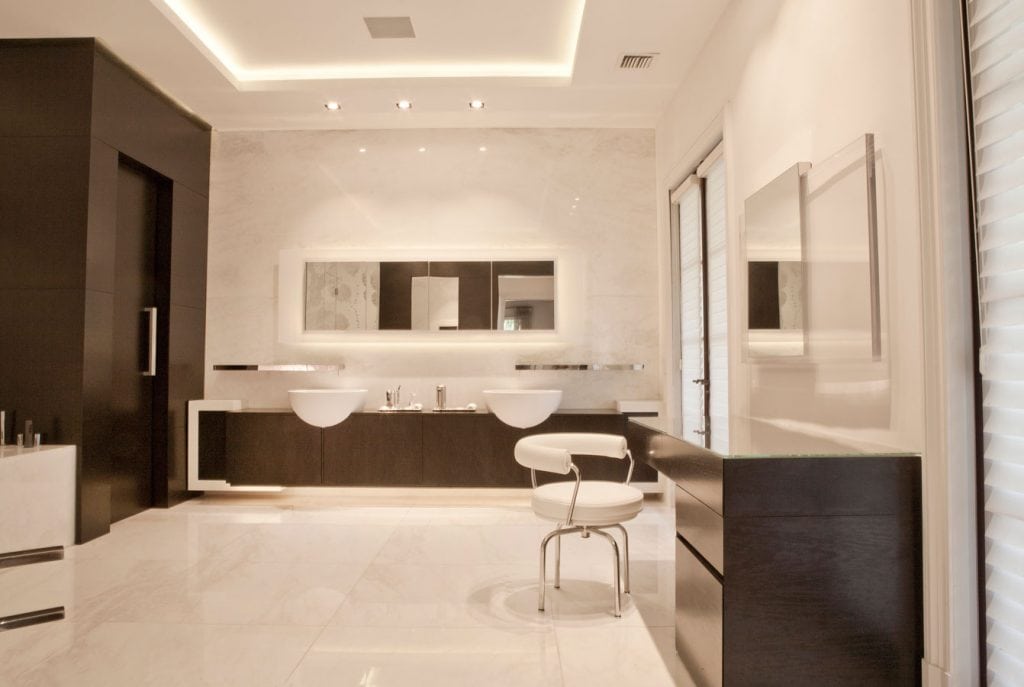 7 Interior Design Mistakes to Avoid
By mvicioso

June 20 , 2013
Great planning combined with a good design concept can help you create an excellent space. Designing or decorating a space by yourself can be uncharted territory and there are many common interior design mistakes. Using photos of our past design work to illustrate, here are seven interior design mistakes you should avoid to create a great space.
Using disproportionate measurements or heights
Hanging art or photos at a strange height will give a space an equally strange appearance. Using off-scale furniture will also throw off a room. It is essential to measure all furniture prior to purchasing and to know the dimensions of a space for effective space planning.
The photos in this space are hung at a height that makes sense for the dimensions of the room.
Ignoring function
Compromising the functionality of a room for looks is a common pitfall. Elements that enhance the room's purpose should be incorporated into the design of a room. For example an office should have good lighting in strategic places but this can be achieved with stylish lighting fixtures. Similarly, the acoustics of a TV room with hardwood floors can be enhanced by simply adding a few rugs.
We created this stylish seating arrangement in Karu & Y with enough space for people to move around comfortably which is key to the functionality of a bar and restaurant.
Overwhelming a space by over furnishing
Over-furnishing a space is a common mistake that unfortunately creates a cluttered look. This mistake can be avoided by sticking to a few key pieces for a room. Another option is to avoid unnecessary decorations altogether and creating just one or two focal points with essential elements such as furniture or paint.
We frequently design spaces like this office with minimal furnishing to achieve a modern and clean look.
Bad lighting
Lighting can change the look of a room dramatically. The right amount of lighting can reveal the true tone of paint and colors in a space. Lighting can also create focal points in a room and create a particular mood you may be looking for.
We embraced the large windows and added complimenting lighting that works well for this space.
Lack of a color scheme
Color coordination can pull a room together. In contrast, the lack of a cohesive color scheme will undermine the look and feel of your space. Great use of color can also create focal points to make a room more interesting and visually appealing. Avoid using too many colors and instead choose a few key colors that best convey your style.
We used a color scheme of red, white and black to elegantly express a modern style in this bedroom.
Underestimating the time or cost of a project
Underestimating the time or cost of a project can complicate the process and even risk its completion. You should leave room for unexpected surprises and costs, as well as the schedule of any third party contractors. For an especially advanced project, you may want to consult a design professional for an accurate idea of the time and cost involved, which brings us to our next mistake.
This space includes a unique fireplace requiring specific materials, which also means a unique cost and timeframe. Such an advanced project requires research, which may be best done by a design professional.
Not hiring a professional when necessary
There are many unique and custom design elements that can dramatically enhance your space. However, many advanced projects will require the assistance of design professionals for the proper or best execution. A trusted design professional can also bring you fresh ideas and avoid mistakes and complications you might have encountered on your own. Read our article on advantages of hiring an interior designer for more information on hiring a trusted interior designer.
Avoid these mistakes when designing your next space to make it both functional and visually appealing. Have you made or learned from any design mistakes of your own?
If you are looking for a top interior designer, consider the Pepe Calderin Design firm for your next project. Take a look at the interior design services we offer and photos of spaces we have designed around the world.
303
Related articles