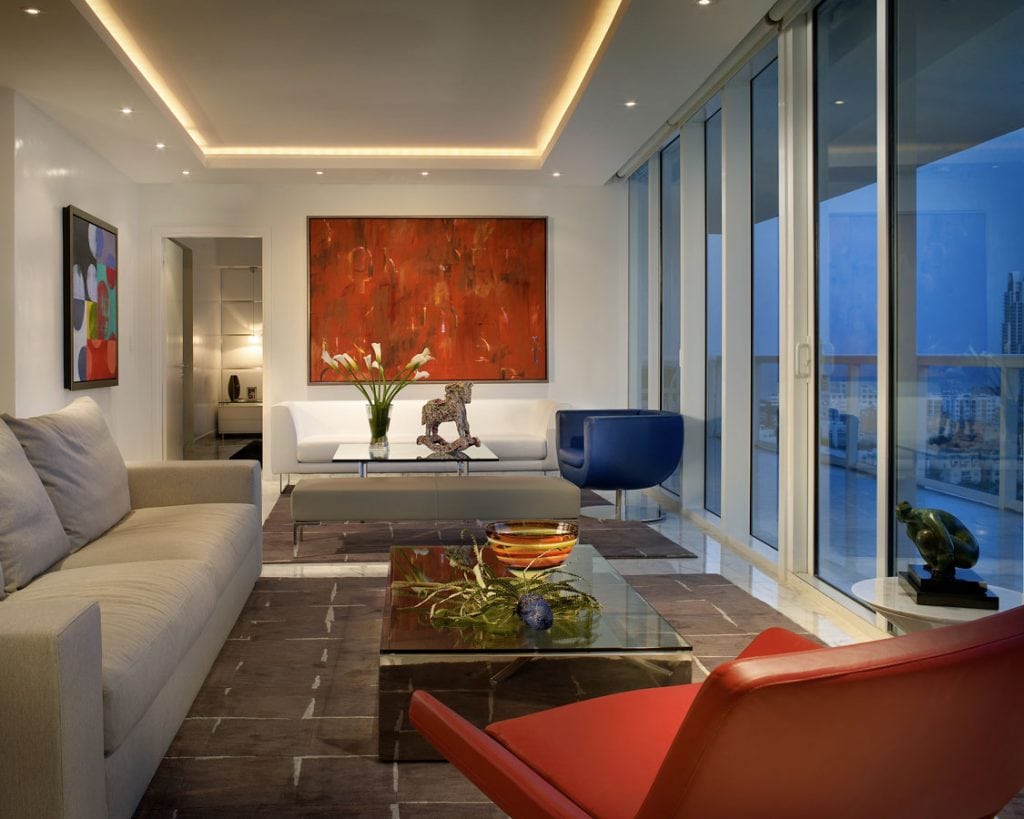 Pepe Calderin Design Explains How to Make a Miami Beach Apartment or any Space Appear Larger
By mvicioso

May 14 , 2013
It can be a challenge to make an apartment or other small space appear larger. In fact, the wrong interior design or furniture can make a space appear even smaller than it really is. So what do professional designers do with small spaces?
Here at the Pepe Calderin Design firm we work with many Miami Beach apartments and small spaces. Using photos of our work, we present the following key ways to make a space appear larger.
Use a light color scheme
Using a light color scheme can help create the illusion of a larger room. Pastels, neutrals and white are all color options that achieve this effect.
By using a light color scheme in the bedroom below, we also provided a neutral background for the furniture and artwork, which are the focal points of the room.
Use lighting
Having plenty of lighting can really open up a space. The great thing about apartments and other small spaces is that their windows often provide a lot of natural light. Installing extra lighting can also add interest to focal points of a room while adding dimension and expanding a room.
Check out all of the lighting sources in the room below which draw your eye through the dimensions of the room and its open layout.
Avoid clutter
Clutter is the enemy of a small space. Choose a few key furniture pieces and avoid unnecessary accessories to eliminate clutter. Great hidden organization and multifunctional furniture can help you keep extra items stored and out of sight. You can even leave some existing shelves half empty to create a spacious appearance.
We made the kitchen below appear more spacious by leaving its counters empty of any tools or utensils, which instead are stored away in the beautiful cabinets.
Place mirrors strategically
Using mirrors can add extra light to a space and make it appear larger. Oversized mirrors as well as several smaller mirrors can both visually expand a space.
We used mirrors on both the ceiling and walls of this small bathroom to double its size.
Embrace built-in furniture
It can sometimes be a challenge to find furniture that is the right size for a small space.
For tiny spaces and unique dimensions, built-in furniture can be a great option. Having wall storage or even seating built in can appear luxurious and avoids awkward size issues, which can make a room seem smaller.
The wall unit we had custom built for this living room provides sleek shelves, as well as a place for the TV in a monochromatic look. This avoids the bulk and visual clutter of several separate storage and furniture pieces.
These are just a few of the key ways to make a space appear larger. Interior design can be used in many creative ways to enhance your space and even give the illusion of more space in a small room. Have you tried any of these design tips?
You can explore more modern interior design projects by Pepe Calderin Design to see some of the great spaces we have designed. Have a space you'd like our design help with?
175
Related articles